Workshop 2 Action Plan 2030 Connectivity between Asia and Europe by Boosting Inclusive and Balanced Mobility and Exchanges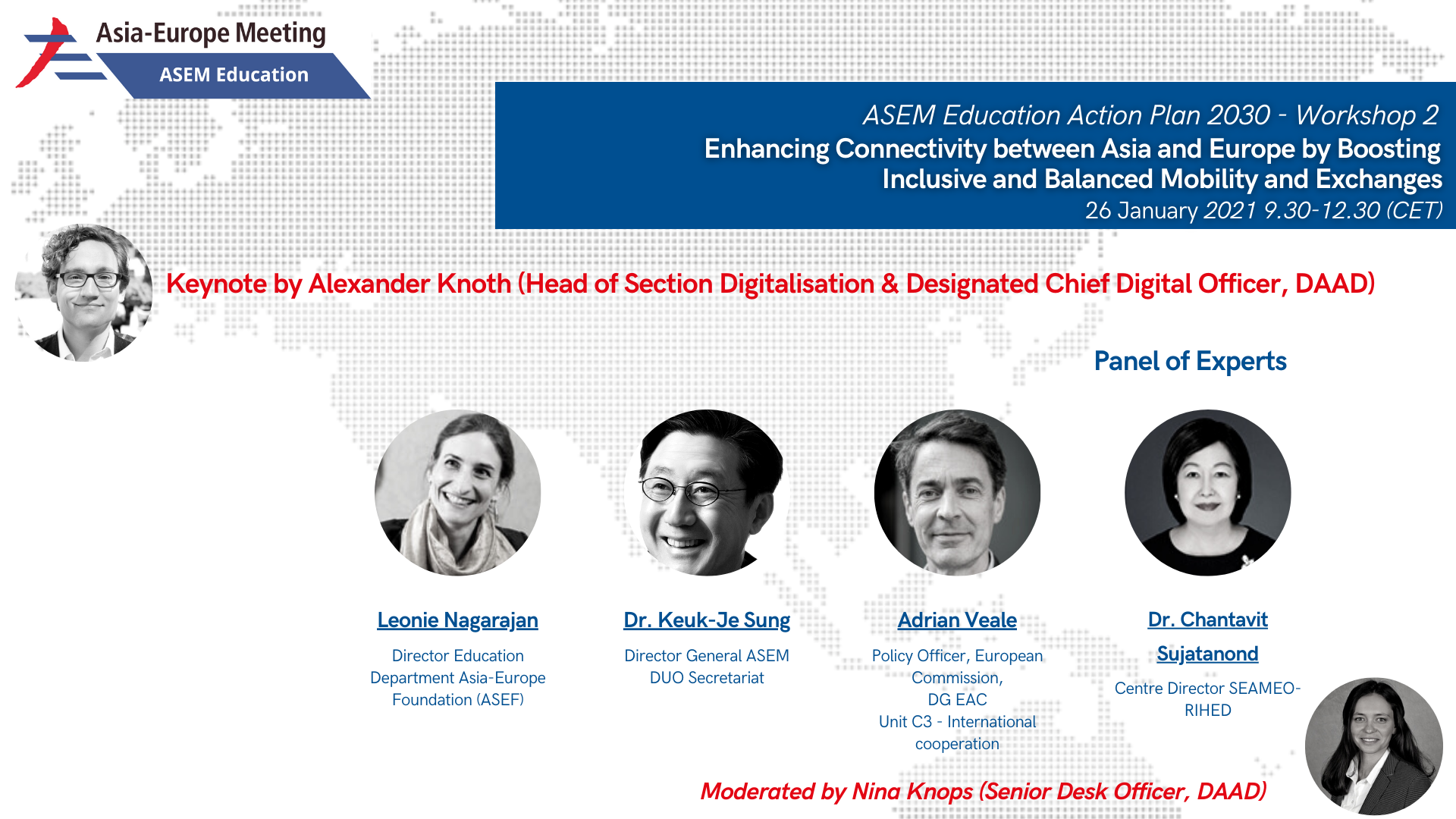 4 Workshops to Collect Input and Develop the Action Plan 2030
ASEM partners and stakeholders are currently drafting an ASEM Education 2030 Strategy to be endorsed by the Education Ministers during ASEMME8. In addition to the strategy paper, they will also present an Action Plan 2030 with concrete actions to implement the Strategy 2030.
For this purpose, the ASEM Education Secretariat is hosting 4 online workshops for all ASEM partners and stakeholders to discuss and shape actions, initiatives, projects and activities to be included in the Action Plan. The workshops will be a combination of experts contributions and interactive brainstorming sessions under 4 different themes reflecting the four strategic objectives identified in the Strategy 2030:
Transparency and Mutual Understanding on Recognition, Validation and Quality
Connectivity between Asia and Europe by Boosting Inclusive and Balanced Mobility and Exchanges
Transversal Skills
Lifelong Learning (LLL), Including Technical and Vocational Education Training (TVET)
Workshop 2: "Connectivity between Asia and Europe by Boosting Inclusive and Balanced Mobility and Exchanges"
The second virtual workshop will take place on 26 January 2021 from 9.30 to 12.30 CET.
It will address how ASEM partners and stakeholders can continue to foster mobility and exchanges between both regions: not only physical mobility, but also virtual mobility and exchanges, as well as blended mobility.
Through the 2030 Strategy, ASEM partners and stakeholders aim further promote and encourage exchanges in all their forms, as well as in various contexts: (higher) education institutions, workplaces, non-formal settings, short exchange programmes and projects, etc).
For this workshop, the ASEM Education Secretariat has invited both external and ASEM Education experts.
Keynote
Alexander Knoth (Head of Section Digitalisation & Designated Chief Digital Officer, DAAD)
Mr Knoth will give us better insights into virtual exchange and reflect upon what is need at institutional and policy to guarantee meaninful virtual exchanges. He will also reflect upon how the ASEM Education Process could contribute to stimulate and support virtual exchange between Europe and Asia.
Panel of Experts
A panel of experts with complementary fields of expertise will reflect upon the role the ASEM Education Process can & should play in enhancing connectivity between both regions by boosting inclusive and balanced mobility & exchanges. They will present the state of play and future perspectives of the programmes and initiatives they are involved in.
Leonie Nagarajan (Director Education Department Asia-Europe Foundation (ASEF))
Dr. Keuk-Je Sung (Director General ASEM DUO Secretariat)
Adrian Veale (Policy Officer, European Commission, DG EAC Unit C3 – International cooperation)
Dr. Chantavit Sujatanond (Centre Director SEAMEO-RIHED)
This panel discussion will be moderated by Nina Knops from the German Academic Exchange Service (DAAD). Speakers' biographies can be downloaded here.
Brainstorming sessions in small groups
The final part of each workshop will be dedicated to interactive discussions in virtual break-out rooms to allow partners and stakeholders to examine existing initiatives and projects, suggest new ones and discuss relaunching or revitalising former activities.
Please note that access to this event is restricted to current and potential ASEM Education partners and stakeholders. If you fall under one these categories and have not received an invitation with registration information yet, please contact the ASEM Education Secretariat at [email protected]  .The recording of the events (minus brainstorming sessions) will, however, be available to all interested parties and will be shared on our communication channels a few days after each event.
| | |
| --- | --- |
| Date | 26/01/2021 |
| Time | 09:30 - 12:30 |
| Location | ONLINE |
Program
09.30 – 09.40 Welcome – ASEM Education Secretariat
09.40 – 10.10 Keynote – Alexander Knoth (Head of Section Digitalisation S01 & Designated Chief Digital Officer)
10.10 – 11.30 Panel Discussion moderated by Nina Knops (Senior Desk Officer, DAAD)

Leonie Nagarajan – ‎Director Education Department Asia-Europe Foundation (ASEF) 
Dr. Keuk-Je Sung – Director General ASEM DUO Secretariat 
Adrian Veale – Policy Officer, European Commission, DG EAC Unit C3 – International cooperation 
Dr. Chantavit Sujatanond – Centre Director SEAMEO-RIHED 

11.30 – 11.45 Coffee break
11.45 – 12.15 Interactive brainstorming sessions in small groups moderated by Olivia Parczyk (Liaison Officer for Asia, Erasmus Student Network) and Dr. Chantavit Sujatanond (Centre Director, SEAMEO-RIHED)
12.15 – 12.30 Wrap-up