ASEMME7 Bucharest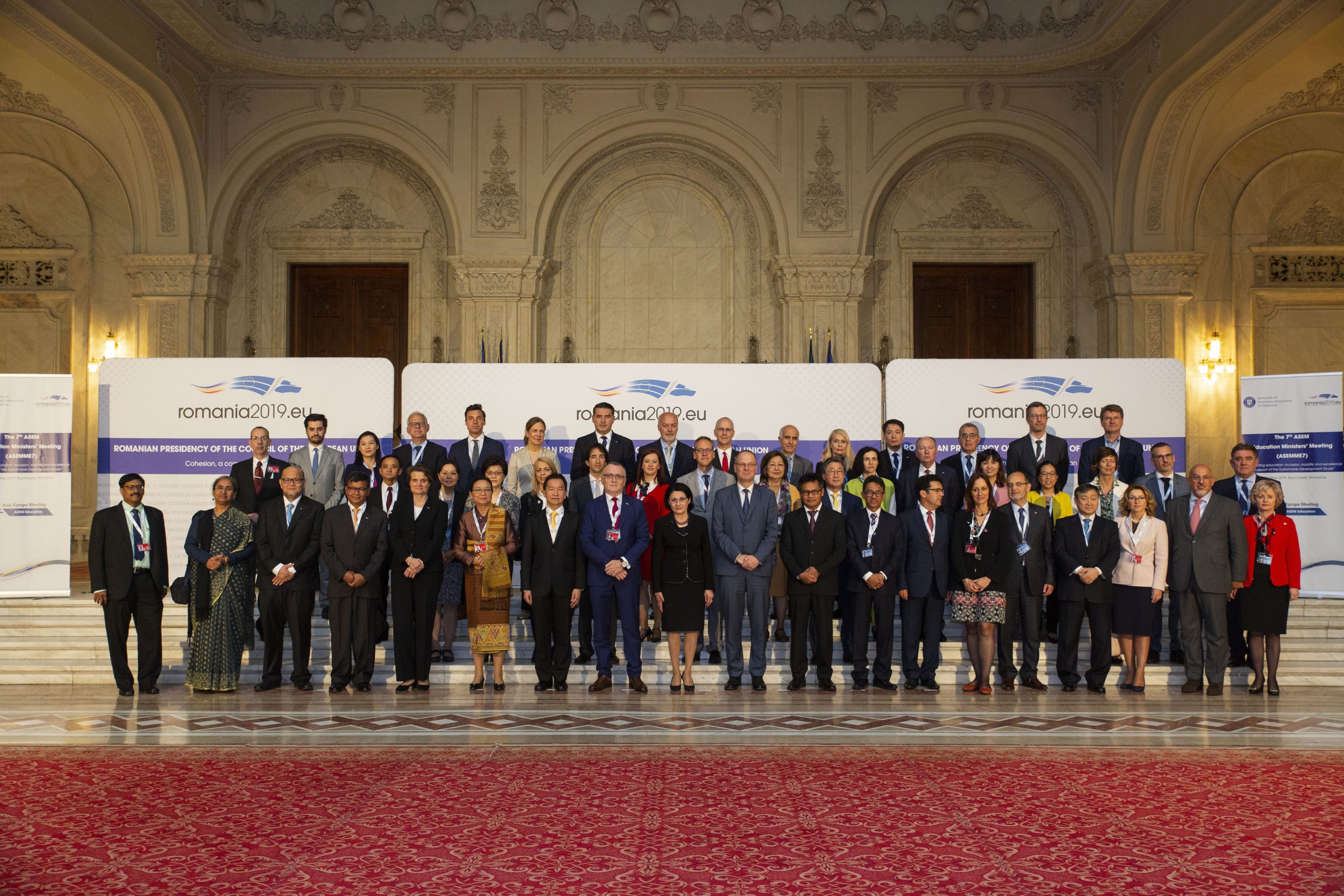 "Connecting education: inclusion, mobility and excellence in support of the Sustainable Development Goals"
The Ministry of National Education Romania is pleased to host the 7th ASEM Education Ministers' Meeting on 15 and 16 May 2019 in the Palace of the Parliament in Bucharest.
During ASEMME6, the ministers not only endorsed the conclusions by the chair, they also adopted the Seoul declaration, making an analysis of the past ten years of the AEP, as well as adopting a vision for the next ten years. Having these documents in mind, the host introduced the overall theme of the ASEMME7 as following : "Connecting education: inclusion, mobility and excellence in support of the Sustainable Development Goals."
The Seoul Declaration adopted at the ASEMME6 (2017, Seoul) as well as the ISOM in Jakarta (2018) and the SOM1 in Austria (2018), have paved the way to this overarching theme.   Both in the Seoul Declaration as during the ISOM and SOM1, Ministers and Senior Officials have indicated that the ASEM Education process should adapt to global challenges such as Digitalisation and Sustainability. The ASEMME7 in Bucharest will therefore have a closer look on the priority theme of 'Balanced Mobility' within ASEM Education and how digitalisation could be an opportunity to ontribute to better balanced and more inclusive mobility programmes. When considering inclusion in education and more specifically, in mobility, the Ministers Meeting brings in the Agenda of Education 2030. Therefore, the Ministers are also invited to to discuss how the ASEM Education Process can contribute to the Sustainable Development Goals.
The host of the ASEMME7 toghether with the ASEM Education Secretariat hopes to welcome all Ministers of (Higher) Education in Bucharest.
Please follow this link to all documents related to the ASEMME7.
| | |
| --- | --- |
| Date | 15/05/2019 - 16/05/2019 |
| Time | 09:00 - 15:00 |
| Location | Palace of the Parliament, Bucharest, Romania |
Downloads
Program
Wednesday, 15 May 2019 (ASEMME7 – Day 1) – Palace of the Parliament, Bucharest
Chair:  Mrs Ecaterina ANDRONESCU, Minister of National Education of Romania
9.00 – Registration of Participants
Bilateral and Working Group Meetings (by appointment only)
12.30 – Lunch
13.30 – Welcome Speeches
Mrs Vasilica-Viorica DĂNCILĂ, Prime – Minister of Romania
Mrs. Ecatarina ANDRONSCU, Minister of National Education, Romania
14.00 – Introduction Speeches
 Mr Tibor NAVRACSICS, Commissioner for Education, Culture, Youth and Sport, European Commission
 Assoc. Prof. Sophon NAPATHORN, Vice-Minister, Ministry of Education of Thailand
Mr Remus PRICOPIE, former Minister of National Education of Romania, Rector of the National University of Political Science and Public Administration (SNSPA) – the host of the 7th ASEF Rectors' Conference and Students' Forum (ARC7) – ARC7 Policy Recommendations
14.25 – Family Photo and guided tour in the Parliament
14.40 – Coffee Break
15.00 – Plenary Session I:  Mobility for everyone: balanced and inclusive mobility in the digital era
ASIA:
H.E. Mr Park Baeg Beom, Vice Minister of Education, Republic of Korea – Education policies in Korea for inclusion and innovation
H.E. Mr Ainun Na'im, Secretary General, Ministry of Research, Technology and Higher Education, Republic of Indonesia
EUROPE
H.E. Mr Evarist Bartolo, Minister for Education and Employment Malta
Discussion
17.00 – Chairs' Conclusions: Presentation and Discussion (AES)
17.30 – Transfer to the Hotel
20.00 –  Official dinner at the National Bank of Romania, hosted by the Minister of National Education of Romania
Thursday, 16 May 2019 (ASEMME7 – Day 2)
9.00 – Parallel Sessions
Working Meeting for Ministers, Vice-Ministers, State Secretaries, Deputy State Secretaries, European Commission and Representatives of Stakeholders:  Informal discussion on the Bucharest Ministerial Statement
Panel discussion on Digitalisation and Sustainable Development: Session for the heads of delegations and Senior Officials. Panellists: Martin Schifferings (DAAD, Germany), Seamus O'Tuama (University College Cork, Ireland), Assoc. Prof. Dr.Houngphet Chanthavong, Vice President, National University of Laos, Ms. Chantavit Sujatanond, Centre Director (SEAMEO-RIHED), Mr. Amir Piric, Chief Programme Coordinator, UNESCO Institute for Lifelong Learning (UIL)
10.15 – Coffee Break
10.45 – Plenary Session II: Towards the Agenda 2030 for Sustainable Development: How can the ASEM Education Process contribute?
EUROPE
H.E. Mr Nadhim Zahawi, Minister, Department for Education, United Kingdom – Towards the Agenda 2030 for Sustainable Development: How can the ASEM Education Process contribute?
H.E Dr. philol. Ilga Suplinska, Minister of Education and Science, Latvia
ASIA
H.E. Mr Natalia Bocharova, Vice-Minister of Science and Higher Education, the Russian Federation
H.E. Mr Undersecretary Revsee Escobedo, Vice Minister, Department of Education, the Philippines.
Discussion
12.30 – Adoption of the Chairs' Conclusions and presentation of the Bucharest Ministerial Statement
13.00 – Closing Remarks
13.15 – Lunch
14.15 – Bilateral and Working Group Meetings (by appointment only)
15.00 – Cultural visit (optional, until 19.30)