ASEM Online Summer School 2020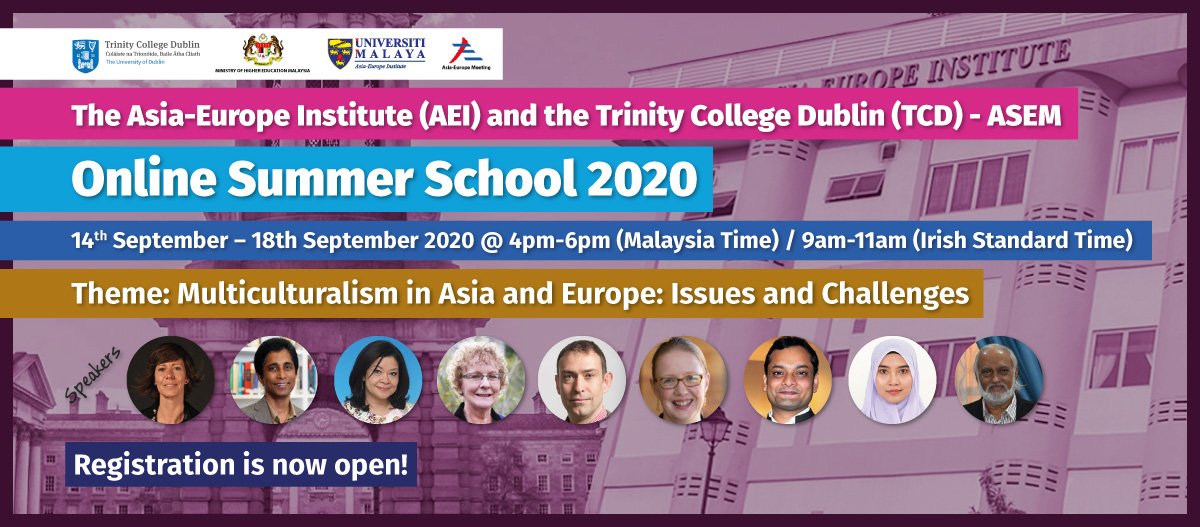 The Asia-Europe Institute (AEI) and the Trinity College Dublin (TCD) – ASEM Online Summer School 2020 on Multiculturalism in Asia and Europe: Issues and Challenges
The Online Summer School 2020 will explore issues related to multiculturalism and diverse societies in Southeast Asia and Europe. It includes modules that discuss increasing diversities arising from migration and greater mobility in the regions as well as the rise of identity politics and polarization within societies.
Both ASEAN and the EU face common and differing challenges in their regional and global environment, and EU and ASEAN member states are also confronted with these issues within their own societies. This raises interesting questions and comparisons on how these issues are being addressed at the national and regional level. This summer school enables discussions of some of these issues with case studies provided for comparison to share best practices and ideas.
Due to the pandemic, the AEI/TCD-ASEM summer school this year will be held virtually via Zoom. The second part of the summer school including field trips will be held in July/August 2021 in Malaysia subject to the Corona virus situation.
The Summer School takes place online on 14, 15, 17 & 18 September 2020 at 4pm-6pm (Malaysia Time) or 9am-11am (Irish Standard Time).
 Contact persons:
Click here for more information.
Registration is open:
| | |
| --- | --- |
| Date | 14/09/2020 - 18/09/2020 |
| Time | 16:00 - 18:00 |
| Location | ONLINE |
Program
Programme Duration:
Date: 14th September – 17th September 2020
Time: 4pm – 6pm (Malaysia Time – MYT) / 9am – 11am (Irish Standard Time – IST
Programme Format:
Each Lecture – 2 hours session consisting of:

1 hour: Presentation  (30mins for each speaker)
1 hour: Break-up Time, Group Discussion & Q&A
Click here for the detailed programme.