6th ASEM Education Ministers' Meeting (ASEMME6), Seoul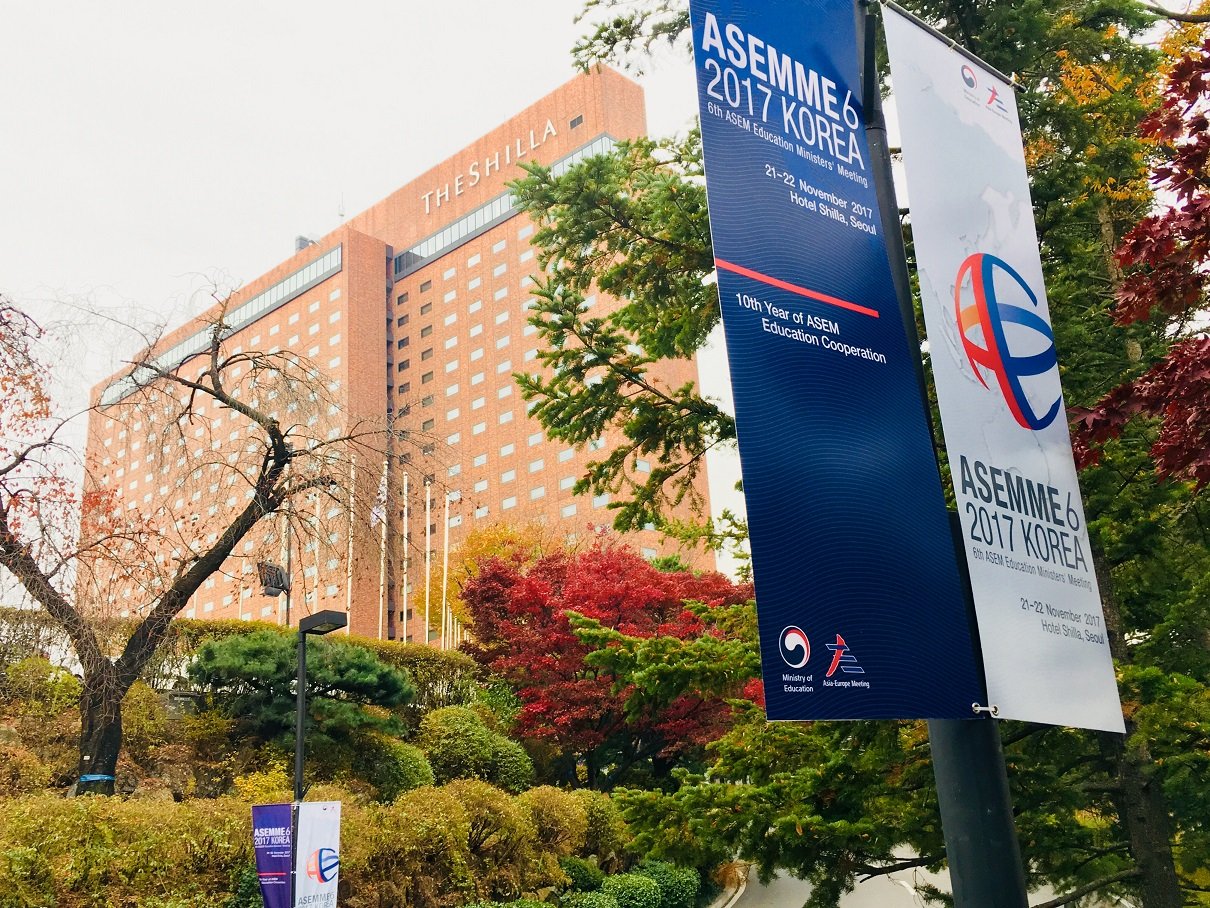 Collaboration for the Next Decade: from Common Perspectives to Effective Fulfillment
The year 2017 marks the 10th year of the ASEM Education Process since the 1st ASEM Conference of Ministers Responsible for Education, which was held in Berlin in 2008. At the conference, the ASEM Education Process took its first step from the common perspectives in Asia and Europe. Subsequently, the process has been impressively evolved through Hanoi (2009), Copenhagen (2011), Kuala Lumpur (2013), and Riga (2015) meetings. Two years ago in Riga, the education ministers encouraged all ASEM partners to engage in more result-oriented activities through promoting ASEM education collaboration for results.
he ASEMME6 on 21 November 2017 was chaired by Mr. Kim Sang-kon, Deputy Prime Minister and Minister of Education, Republic of Korea. During the welcome speech, Minister Kim stressed that ASEMME6 will be a platform for practical dialogue and advanced based on past progress, and a historic milestone that set the tone for the next 10 years of ASEM cooperation. There were two plenary sessions with presentations by ASEM partners in relation to the four ASEM Education Priority Areas. The first day meeting was started with presentations on priority areas of Engaging Business and Industries in Education and Lifelong Learning including Technical and Vocational Education and Training. The presentations were from Head of Delegation of Ireland, Philippines, Switzerland and Thailand. The first day meeting was ended with formal dinner hosted by Mr. Kim Sang-kon, Deputy Prime Minister and Minister of Education, Republic of Korea. The second plenary session on 22 November 2017 was enlighten by presentations from Head of Delegation of Slovakia, Indonesia, Romania, and China on priority areas of Quality Assurance and Recognition and Balanced Mobility. All the presentations from the Head of Delegations provide opportunities for ASEM partners to learn and collaborate in initiatives under the four ASEM Education Priority Areas between Asia and Europe.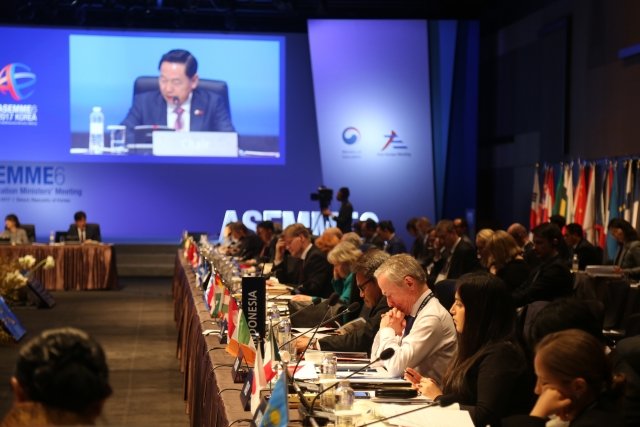 At the end of the meetings, the Ministers approved and adopted the Conclusions by the Chairs and Seoul Declaration. In addition, the Ministers also witnessed the handing over ceremony of rotating ASEM Education Secretariat from Jakarta to Brussels. The meeting was ended with presentation on Looking Forward to ASEMME7 by Head of Delegation of Romania. As a conclusion remarks, Minister Kim Chair of Meeting, stressed that there is need for vibrant education activities between Asia and Europe in order to expand the people to people connectivity for address common challenges faced by all ASEM partners.
| | |
| --- | --- |
| Date | 21/11/2017 - 22/11/2017 |
| Time | 08:30 - 17:00 |
| Location | Hotel Shilla Seoul |
Downloads
Program
21 November 2017(ASEMME6 – DAY 1)
08:30 – 12:00 – Registration of the Participants
09:00 – 12:00 – Bilateral Meetings or Working Group Meetings (by appointment only)
12:00 – 13:30 – Lunch
14:00 – 14:40 – Opening Ceremony
14:40 – 15:00 – Family Photo and Coffee Break
15:00 – 17:00 – Plenary Session I : Collaboration for the Next Decade – Improving Youth Employability
17:00 – 17:30 – Coffee Break
17:30 – 17:40 – Presentation of ARC5 and ARC6 Policy Recommendations19:00 – 21:00 Formal Dinner
22 November 2017 (ASEMME6 – Day 2)
9:00 – 11:00 – Plenary Session II: Collaboration for the Next Decade – Promoting Mobility and People-to-people Connectivity
11:00 – 11:30 – Coffee Break
11:30 – 11:45 – Seoul Declaration and Chair's Conclusions: Presentation and Adoption
11:45 – 12:00 – Presentation: Looking Forward to ASEMME7
12:00 – 12:15 – Handing over of ASEM Education Secretariat to the Next Host
12:15 – 12:25 – Closing Remarks
12:25 – 13:00 – Press Conference
13:00 – 14:00 – Lunch
14:30 – 17:00 – Site Visit and Bilateral Meetings or Working Group Meeting