2nd Senior Officials' Meeting (SOM2), Seoul
The 2nd Senior Officials' Meeting (SOM2) of the 6th ASEM Education Ministers' Meeting (ASEMME6) was hosted by Ministry of Education, Republic of Korea in collaboration with the ASEM Education Secretariat (AES) on 20 November 2017. The SOM2 co-chaired by Mr. Choi Yeonghan, Director General, Ministry of Education, Republic of Korea and Prof. Dr. Aris Junaidi representing the ASEM Education Secretariat.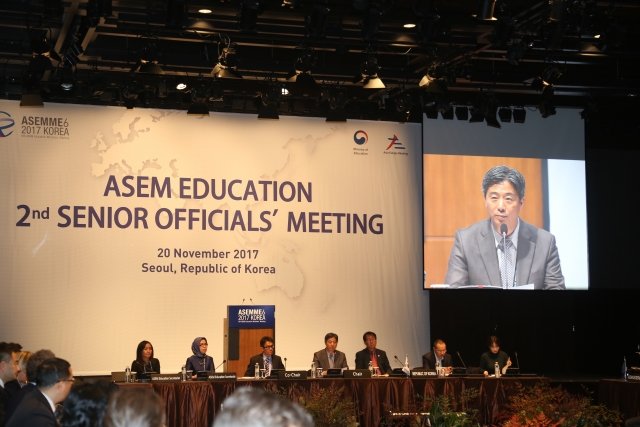 During SOM2, the final Stocktaking Report from Riga to Seoul consisted with initiatives were carried out after ASEMME5 was presented by AES. Meanwhile, the draft Conclusions by the Chair and Seoul Declaration was presented and discussed by all delegation for endorsement of ASEM Education Ministers during ASEMME6. The second part of SOM2 was started with presentations by ASEM partners and stakeholders. There were total 14 presentations covers initiatives namely ASEM Network of MOOCs program, the ASEM Work Placement of Programme, Innovative Competence and Entrepreneurship Education, ASEM Joint Curriculum and ASEM Study Module, EU-funded programme, ASEM-DUO fellowship programme, Asia-Europe Foundation programmes, Global Citizenship Education, Mobility of Higher Education and Ensuring Quality Assurance of Higher Education Among ASEAN Plus Three Countries, ASEM LLL Hubs initiatives, Higher Education Collaboration within ASEM, Bridging continents through young education networks: insights by Students Associations, 2017 Global inventory of national and regional frameworks and AEI-ASEM Summer School.
| | |
| --- | --- |
| Date | 20/11/2017 |
| Time | 08:30 - 18:00 |
| Location | Hotel Shilla Seoul |
Downloads
Program
08:30 – 11.00 – Registration of Participants.
09:00 – 11.00 – Bilateral meetings or Working Group Meetings (by appointment only).
11:00 – 11.20 – Welcoming speeches
11:20 – 11.50 – Family Photo and Coffee break.
11:50 – 12.00 – Presentation of the Stocktaking Report
12.00 – 13.00 – Draft Seoul Declaration: Presentation and Discussion
13.00 – 14.30 – Lunch
14.30 – 15.30 – Draft Chair's conclusions: Presentation and Discussion
15.30 – 16.00 – Coffee Break
16.00 – 17.00 – Presentation of ASEM Partners and Stakeholders
17.00 – 17.30 – Coffee Break
17.30 – 18.30 – Presentation of ASEM Partners and Stakeholders
19.00 – 21.00 – Dinner