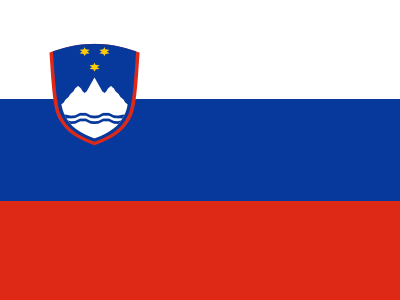 Slovenia
Chapter 1: Higher Education System
Section 1.1.: Schematic Description of the Higher Education System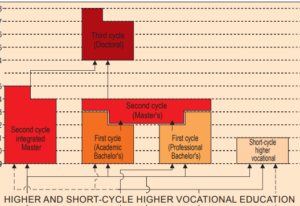 Source: https://www.gov.si/assets/ministrstva/MIZS/Dokumenti/ENIC-NARIC-center/solske-sheme/Structure-of-the-education-system-in-the-Republic-of-Slovenia-v2.pdf
Section 1.2: Description of Higher Education System
Higher education is set in accordance with the Bologna Declaration. First cycle study programmes are academic and professional study programmes; they last three to four years and consist of 180 to 240 credits (ECTS). Second cycle study programmes are master's study programmes. They consist of 60 to 120 credits (ECTS) and last one to two years. Second cycle study programmes also include integrated master's study programmes, which last five to six years and consist of 300 to 360 credits (ECTS). Doctoral study programmes are third cycle programmes; they last three to four years and consist of 180 to 240 credits (ECTS).
Higher education institutions are either public or private. All institutions, except professional colleges, may provide first, second and third cycle study programmes. Professional colleges may provide, as a rule, first-cycle professional study programmes, but also second-cycle programmes if they have suitable higher education teachers, researchers and higher education associates and they comply with the conditions for the performance of scientific research or artistic work.
Section 1.3: Number of Higher Education Institutions
103 HEIs are accredited in the academic year 2019/2020 in Slovenia.
By type of HEI, Slovenia has 6 (3 public, 3 private) universities with 59 faculties and 4 academies, as well as 39 (1 public, 38 private) independent HEIs, of which 20 are faculties, 17 professional colleges and 2 academies. Also, the Euro-Mediterranean University (EMUNI), an international association of universities, is having its seat in Slovenia.
Section 1.4 Number of Students in Higher Education
Enrolled on October 30
2019/2020
I.
II.
III.
Sum
Universities
35.953
19.538
2.863
58.354
EMUNI
6
6
Independent HEIs
6.105
1.445
446
7.996
Sum
42.058
20.989
3.309
66.356

Foreign students in 2019/2020

I.
II.
III.
Sum
full-time
3.019
1.736
179
4.934
part-time
745
342
507
1.083
Sum
3.764
2.078
686
6.017
Section 1.5: Structure of Academic Year
According to Article 37 of the Higher Education Act, the academic year shall run from 1 October to 30 September. The academic year commonly includes two semesters of 15 working weeks each, and three periods of examination (June-July, September, January-February). Holidays are in July, August and September.
In addition, the undergraduate study programmes shall comprise of at least 20 and at most 30 hours of lectures, seminars and practical exercises per week and of 30 weeks per year. If a study programme contains practical training, the total student workload may not exceed 40 hours per week or 42 weeks per year.
Any further detailed rules and procedures concerning the academic calendar, examination procedure, completion of education, organisation and schedule of lectures, seminars and practical exercises may be adapted to the possibilities of the students (e.g. part-time studies, art academies courses) shall be regulated in the statutes of individual